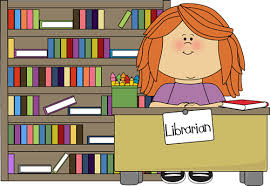 THE SCHOLASTIC BOOK FAIR IS HAPPENING OCT. 22-24 IN THE LIBRARY.  HOURS ARE: TUESDAY OCT. 22 1:30-4:00, WEDNESDAY OCT. 23 1:30-4:00, THURSDAY OCT. 24 11:30-4:00.  COME ON OUT AND SUPPORT THIS GREAT LITERARY EVENT!
Our librarian:
Mrs. Knodel is our teacher-librarian at F.G. Leary.  She has been a teacher for 25 years and she LOVES books!  She is also the teacher-librarian at Greendale Community School.    Before moving to Chilliwack, she taught in Vancouver, West Vancouver, and even the Philippines!  She is passionate about reading and music, so she thinks F. G. Leary is a great place to be.  She is married and has two sons.  In her free time, she likes to ski, hike, watch her sons play volleyball and travel with her family, have coffee with friends and, of course, read!  Her favourite book she has read recently is "All the Light We Cannot See."
Library schedule:
The library is open on Tuesdays and Thursdays.  On these days, students come in with their teachers to hear a story, practice library skills and exchange books.  There is also time after lunch on these two days for individual students to come in and exchange books.  Students should be returning their books to school each week on their library day, either to exchange or renew them.
Reading Incentive Programs:
We have 2 different Reading Incentive Programs this year.  For grade 4 and 5 students, we have a new program called "Reading Outside the Box."  Information for this program can be found on the website link.  For Kindergarten to grade 3 students, we have "Strive for 25", where students can read any 25 books of their choosing and turn their form in for a prize.  If you need additional forms, please print one off from the attached link at the bottom of this page.  
One School One Book:
We are excited to kick off our "One School One Book" event later in the year.  Stay tuned to find out what this year's exciting readaloud will be!
Reading Link Challenge:
This program will begin in January.  Stay tuned in December to see what this year's 6 books will be.  This program is open to grades 4 and 5 students and is sponsored by the Fraser Valley Regional Library.
Hot Picks:
These were some of the most popular books last year:
#1 - Dog Man and Cat Kid, by Dav Pilkey
​#2 - The Breadwinner, by Deborah Ellis
#3 - The Tale of Despereaux, by Kate DiCamillo
#4 - Amulet: Escape from Lucien, by Kazu Kibuishi
​#5 - Amulet: Firelight, by Kazu Kibuishi
#6 - Can I Play Too, by Mo Willems
#7 - Diary of a Wimpy Kid: the Getaway, by Jeff Kinney
#8 - Bone: Eye of the Storm, by Jeff Smith
#9 - Ghosts, by Raina Telgemeier
#10 - Minecraft Beginner's Handbook