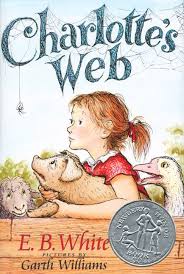 April 2, 2019
Dear Parents and Guardians,
F. G. Leary is embarking on a special project, an all school book club called "One School, One Book."  Today every family received a copy of the same book – "Charlotte's Web" by E. B. White.
With the "One School, One Book" program, we aim to foster a community of readers at our school.  Everyone – students, parents, teachers, even administrative staff – will be participating, and we can all reap the benefits.
Generally, you will be asked to read a chapter or two a night – about 15 minutes.  There is a reading schedule attached so you can keep up at home.  Alternatively, you can check out the school website every day and listen to a different staff member read aloud (navigate to "school information" and then "library").  In school, your child will be invited to answer daily trivia questions to encourage attentive listening while your family is reading.  You will soon find that your child will take pride in knowing and anticipating the details of the story.  Throughout the month, everyone will be talking about Charlotte and her web!
"One School, One Book" is a novel program in that children at all grade levels will all be listening to the same book.  Strange or daring as that may seem, it actually makes sound educational sense.  Reading professionals recommend reading material out loud that is beyond a child's own reading level, and we also believe it is wonderful to read chapter books with your older children, even when they are able to read by themselves.  We have selected a title that can be followed and enjoyed by younger students, but that will still captivate and stimulate older children.
Good luck!  We hope everyone will be talking about Fern, Charlotte and all of the animals.  When a whole school reads a book, there's a lot to talk about.  With your help, we can continue to foster a Community of Readers at F. G. Leary Elementary.
Sincerely,
The F. G. Leary Fine Arts School staff